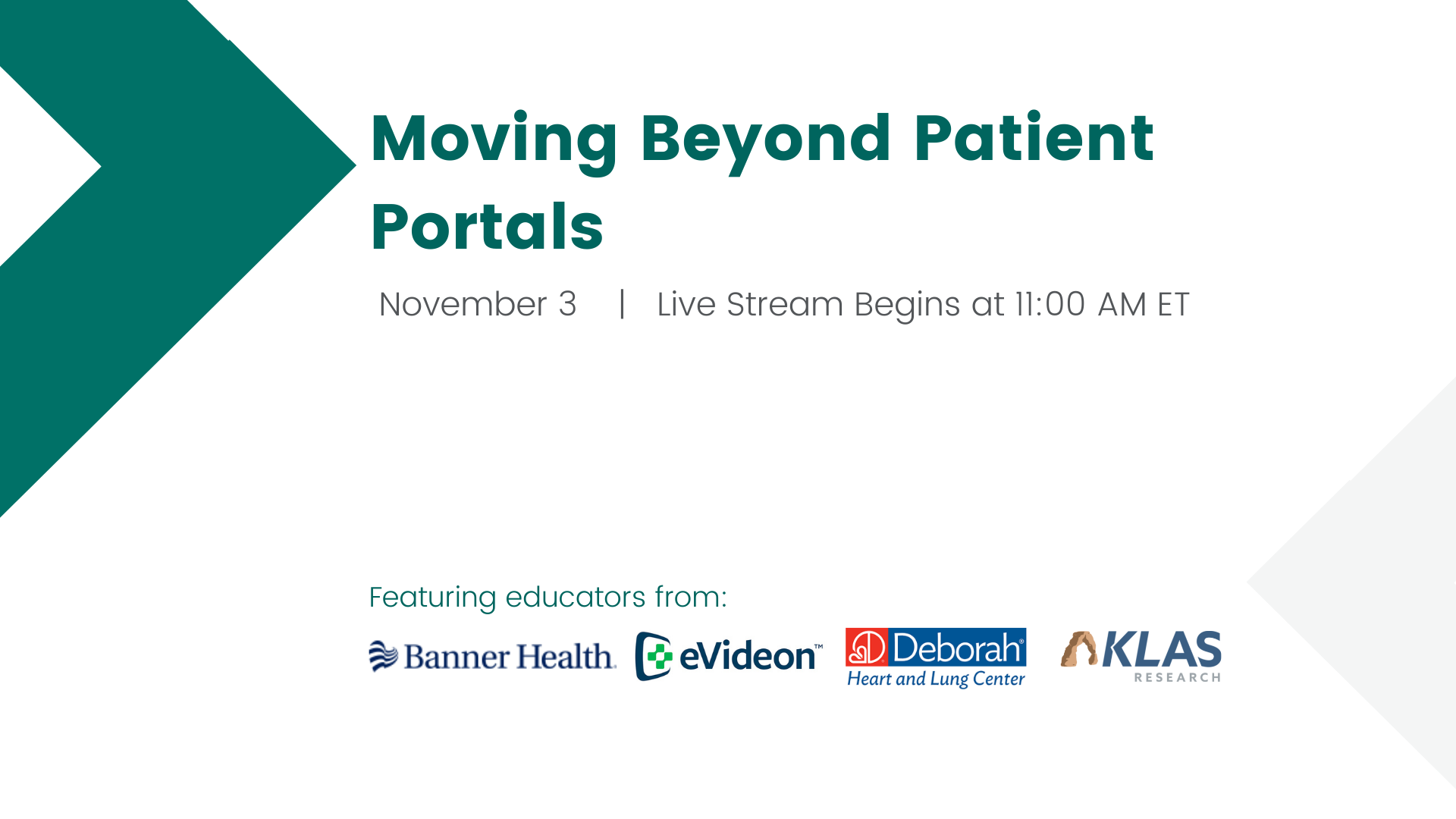 Providers implemented patient portals as part of the "check-the-box" fulfillment of requirements to qualify for Meaningful Use payments. But while portals are central to providers' strategies, they aren't fully meeting patients' needs for navigating the health system and getting a unified view of their health data. Thus, they often often fail to help providers that want to shift to a patient-centric approach. Providers now understand portal technology and use need to be optimized, and they are trying to piece together technology components that better match consumer preferences, especially virtual services and convenience services that have emerged in response to the COVID-19 pandemic. Some of these capabilities include telemedicine, self-scheduling, and pre- and post-visit communication which have emerged as requirements for consumer service in healthcare. We will answer the following questions during this episode:
What are patients looking for?

What are the components of a wide-ranging patient engagement platform?

How are provider organizations attempting to coalesce these technology components and optimize their use to create a next generation of patient interaction?

What are the challenges of integrating niche solutions with enterprise-wide health information systems?
---
Schedule
11:00 AM ET | Are We Still Talking About Patient Portals?
Join Dan as he reviews research that identifies what patients are looking for and how the next generation of patient portals can deliver.
Christopher will share the guiding principles his team utilize to help business lines across Banner Health deliver a cohesive patient experience across the health system.

11:45 AM ET | Designing a Digital-first Strategy to Personalize the Patient Journey
A modern patient engagement strategy requires technology that is not only patient-centric, but also designed to support the unique needs and workflows of the care team. Truly innovative organizations recognize the interdependencies between quality outcomes, patient satisfaction, workforce engagement, and cost reduction. During this session, Jason Swoboda, associate director of emerging technologies and health innovation at Tampa General Hospital will join Jeff Fallon, CEO at eVideon to discuss how hospitals are leveraging smart room technology and interactive patient platforms to lessen or eliminate gaps in care and engagement. Jason will share insights into Tampa General's recently opened ICU "Rooms of the Future" and provide tips and advice for organizations looking to design and deploy similar technology initiatives across their organization. Jeff will address the business imperative for hospitals and health systems to move beyond patient portals and how technology that delivers information in real-time to patients, families, and care teams, can truly transform the care experience.
Session organized in partnership with:



12:15 PM ET - Developing Frameworks for the Next Generation Patient Experience
Join Rich Temple as he discusses efforts that Deborah Heart and Lung are actively undertaking to improve communication between patients and clinicians. This session will focus on early lessons learned by the teams mapping the technological, process, and people changes needed to implement new patient communication tools.


12:45 - 1:45 PM ET | Where Experience Matters Wrap-Up Discussion
Episode 2 concludes with all of our educators sharing their experiences and research to highlight success frameworks that are launching the next generation of patient experience tools.
---
Guest Host
---
The HDM KLASroom is made possible by generous contributions from:

---
Interested in participating in the series as a faculty member or sponsor? Contact us.