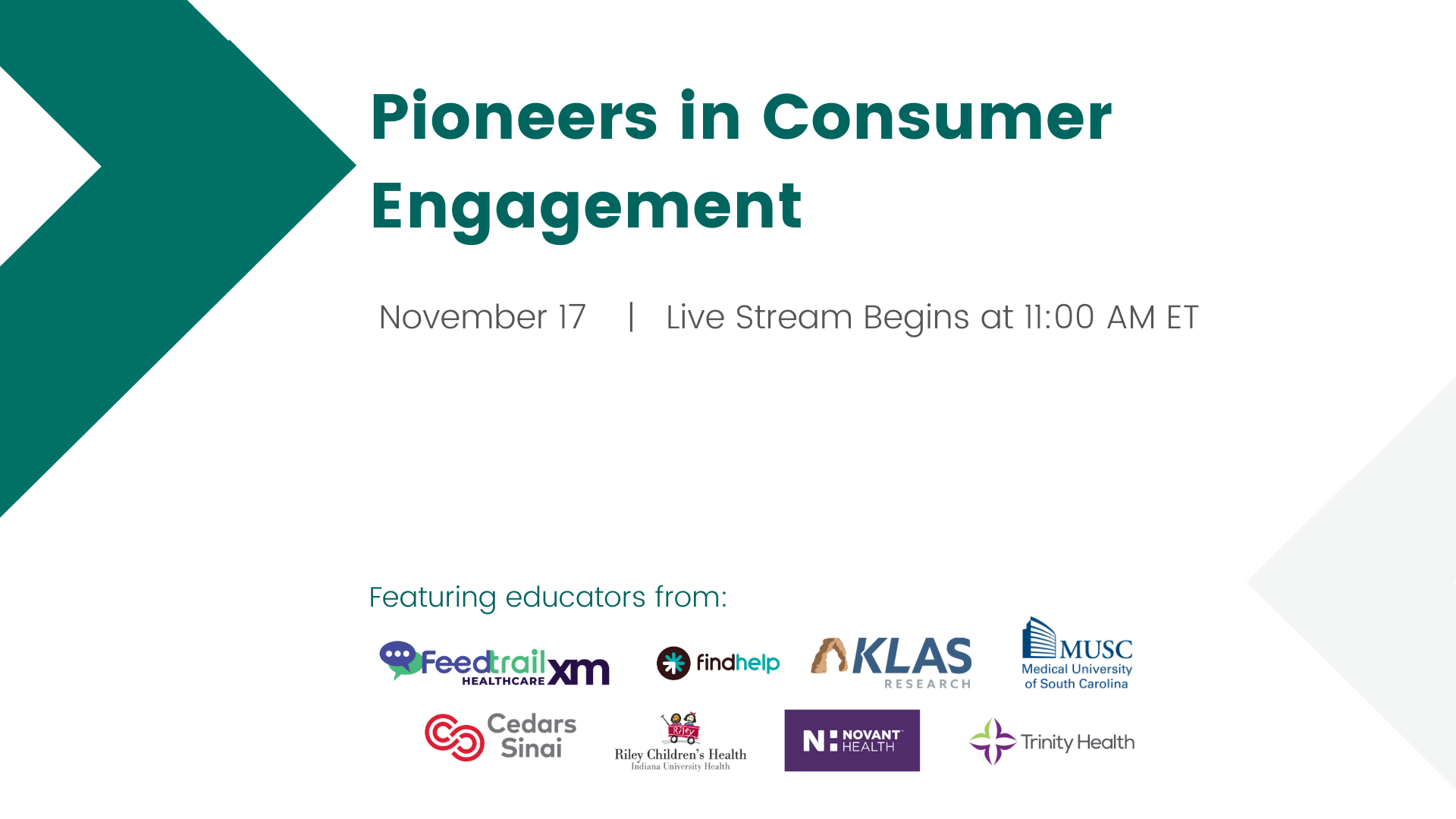 Most healthcare organizations had to radically change operations during the pandemic to adapt to new health safety practices and meet consumer demand. Some of those practices have become the new normal for organizations. But some pioneers in consumer engagement see these operational changes as an affirmation of strategies they believe are important to the future of healthcare. In some cases, healthcare organizations are looking outside the industry for fresh solutions for improving customer service and better engaging patients. In this session, we talk to executives at these organizations who are leading the charge to use technology as one component of a strategy to shift to a consumer orientation.
How are organizations learning about best practices in other industries?

How are organizations learning what patients' needs are and taking steps to meet those needs?

Where is this trend heading and what are the key problems to be solved?

What are the catalysts causing organizations to think differently about their own

patient engagement processes and technologies?
---
Schedule

11:00 AM ET | Episode Overview
Join Rebecca Hammond from KLAS Research as she shares what KLAS research staff are learning about organizations that are welcoming customer experience outsiders in to help with patient experience improvement. Learn what early progress some health systems like Intermountain and Providence are having and what is on the horizon.

11:25 AM ET | The Patient Experience Conversation at Medical University of South Carolina
The patient experience conversation is transcending historical levels in health systems and making its way to being a top priority for chief executives. Join Dr. David Cole, Caroline DeLongchamps and key leaders at MUSC as they discuss why patient experience is a cultural decision, and how patients and families were a guiding light as they designed and built the Shawn Jenkins Children's Hospital.

How did the MUSC team do this? Join Caroline DeLongchamps as she breaks down their approach to patient and family councils, and how they are scaling this patient centric approach to innovation and care across the health system.

12:25 PM ET | Using Data to Understand the Full Scope of Patient Needs
If organizations want to truly enhance the patient experience, they need more than just the data that is collected during a patient check-up, or inpatient stay. Until recently, Social Determinants of Health had been largely ignored or not accessible. But now, some institutions are incorporating this data into the way they manage care for their patients. Join the findhelp team (formerly known as Aunt Bertha) and some of their clients as they discuss steps that can be taken, and principles that can be applied to better understand the whole patient.

1:25 - 1:55 PM ET | Leveraging Consumer Engagement Best Practices from Outside of Healthcare
This session will unite innovators from inside and outside of healthcare as they discuss how to leverage the key principles that translate between customer experience and patient experience. Learn how to leverage best practices from other industries that help companies like Netflix and Carmax ensure consistently positive experiences. A vast amount of information lies within your patient experience data that can be leveraged to personalize experiences and surprise and delight. By understanding gaps and how experiences differ by segment and patient population you can tailor engagement to the individual and exceed expectations.

Participants will learn:

Why healthcare needs to embrace the idea of patients as customers and key principles that translate between CX and PX
How to leverage best practices from other industries that help companies like Netflix and Carmax exceed customer expectations
The value of segmenting your data to understand gaps, personalize experiences, and improve health equity

Session produced in partnership with:

---
Guest Host
---
The HDM KLASroom is made possible by generous contributions from:

---
Interested in participating in the series as a faculty member or sponsor? Contact us.