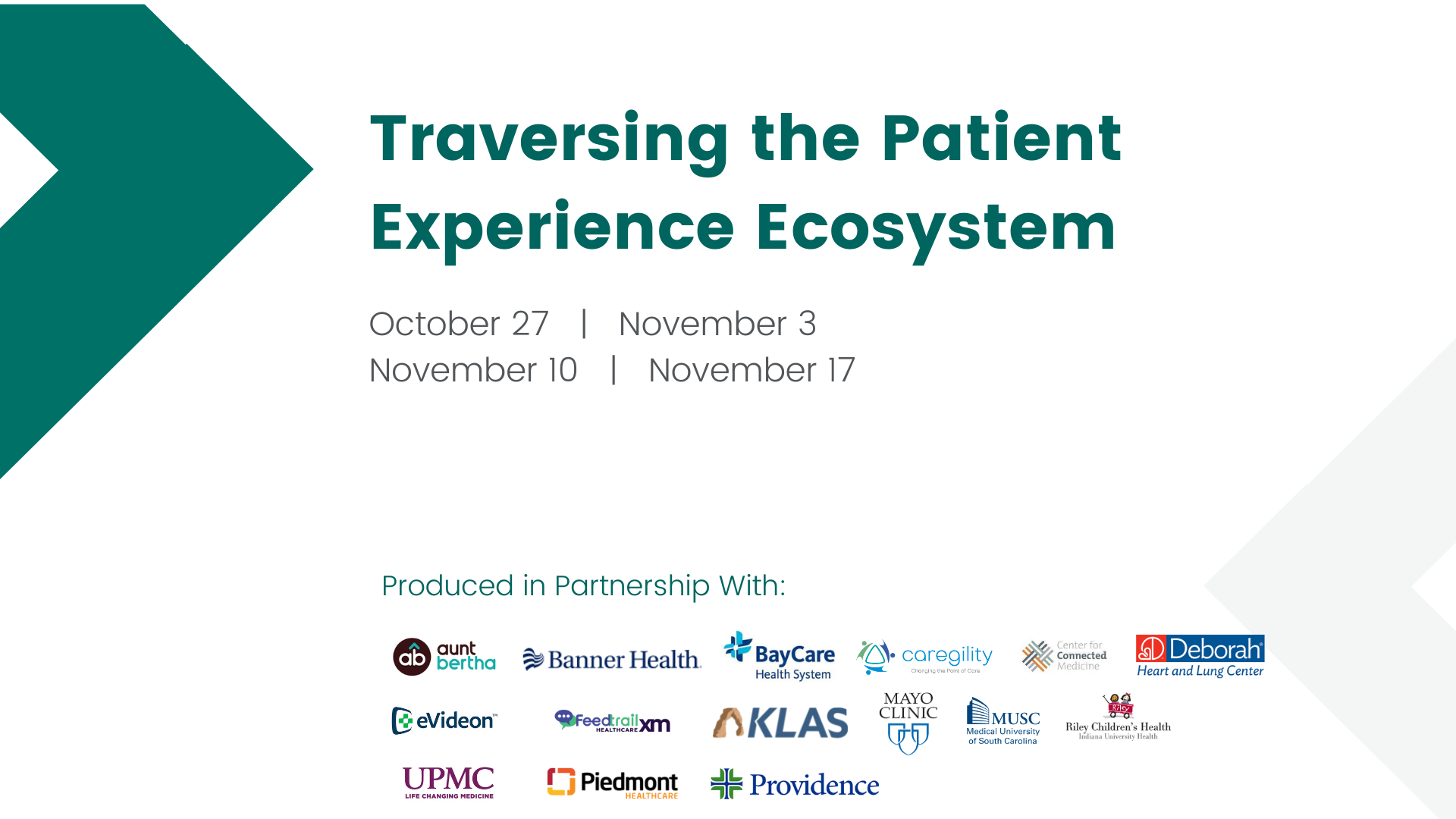 ---
In healthcare, it's easy to give lip service to the idea that patients should be more involved in their care and the healthcare industry needs to follow the lead of other industries to elevate the importance of customer service. But initial efforts to boost the customer experience struggle as three crucial segments – providers, technology innovators and patients themselves – are misaligned on how to achieve improvement.

Join Health Data Management and KLAS Research as we facilitate a patient experience education series focused on defining the current state, identifying the principles of success needed for improvement, and showcasing the people, processes and technologies currently delivering positive results.

Guided by the deep insights of KLAS Research and teachable experiences from successful program leaders, this four-week virtual learning program provides a framework for attendees to understand, identify, implement, and apply processes and technologies to enhance their current efforts or develop new initiative for improving patient experiences within their own organizations.
---
About Each Episode
Each episode of "Traversing the Patient Experience Ecosystem" live streams beginning at 11:00 AM ET each Wednesday, beginning October 27.
Ep. 1 - Access, Equity, Outcomes: Misaligned Imperatives | October 27

Episode 1 dives into the research and experiences that identify the nature of misalignment between providers, technology innovators, and patients, as we help answer the questions:

How can provider organizations and technology and service partners better align their patient engagement efforts to benefit the patient?

What programs (cocktail of people, process, and tech) really have evidence of success that can be templated, shared, and applied across the industry?

Ep. 2 - The Technology – Moving Beyond Patient Portals | November 3

Episode 2 takes a deeper dive into the research and experiences that identify what patients really want, and work to answer the following questions:

How are provider organizations creating more engaging patient engagement platform and optimize their use to create a next generation of patient interaction?
What are the challenges of integrating niche solutions with enterprise-wide health information systems?




Ep. 3 - The Process - Changing Workflows and Meeting Patients Where They Are | November 10

Episode 3 showcases real-world lessons including the impact of the pandemic on the patient experience – then and now. Questions we answer in this segment include:

How has the pandemic changed the ways in which patients engage in their care?
What technologies are surging in popularity?
How can organizations make the cultural and process shifts necessary to become customer focused?

Ep. 4 - The People - Pioneers in Consumer Engagement | November 17

Episode 4 provides an in-depth look at where early pioneers in patient experience are seeing the greatest success. We'll uncover answers to the following questions:

How are organizations learning about patients' needs and meeting them?
How are organizations learning and applying best practices from other industries?



---
Meet the Experts
The first episode of Traversing the Patient Experience Ecosystem features subject matter experts from across healthcare, including forward thinking providers, advanced technology leaders, and process innovators. Learn more about the educators.
---

The HDM KLASroom is made possible by generous support from:

---
Interested in participating in the series as a faculty member our sponsor? Contact us.